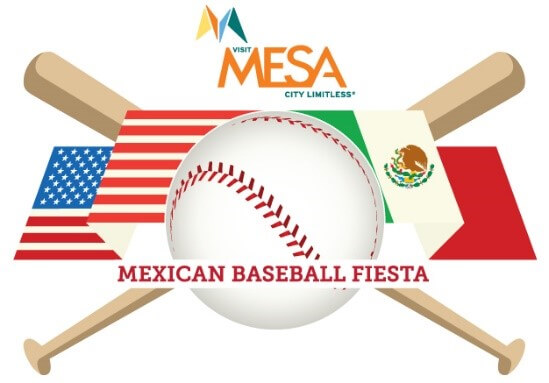 6th ANNUAL MEXICAN BASEBALL FIESTA PRESENTED BY VISIT MESA and BOOST MOBILE RETURNS TO THE VALLEY
For Immediate Release
July 27, 2017
Contact: Francisco Gamez
(520) 460-5750
francisco@mexicanbaseballfiesta.com
The Mexican Winter Baseball League's version of "Spring Training" will return to the valley for our sixth consecutive year. The last years have been in Mesa. The Mexican Baseball Fiesta will return to Sloan Park. The "fiesta' played there in 2015 but another commitment in 2016 had us move to Hohokam Stadium. This year's games will be on September 30 & October 1. Four of the top teams from the Liga Mexicana del Pacifico will participate – Los Naranjeros de Hermosillo, TomaterosdeCuliacan, Águilas de Mexicali, and theCañeros de Los Mochis.
All games will be played at Sloan Park, located at 2330 W. Rio Salado Pkwy in Mesa, which is home to the Chicago Cubs during Spring Training.
Schedule:
Saturday, September 30             7:00 p.m.            Hermosillo vs. Culiacan
Sunday, October 1                         2:00 p.m.            Hermosillo vs. Culiacan (Game 1 – 7 innings)
                                                                                                Mexicali vs. Los Mochis (Game 2 – 7 innings)
"The Mexican Pacific League, is as popular in Mexico as Major League Baseball is in the U.S., if not more so," said Francisco Gamez, Mexican Baseball Fiesta, founder and LLC partner. Gamez played over 10 years in the Mexican Pacific League as well as in the Milwaukee Brewers organization in the states. Constant excitement is the best way to describe the Mexican Baseball Fiesta.  The energy of the fans, the music and fun make this a unique experience for all baseball fans. This event embraces our Mexican friends and visitors."
Mike Feder, President of the Mexican Baseball Fiesta, said "We are extremely excited that the Mexican Baseball Fiesta continues to grow. Last year's Saturday night game drew in excess of 3,000 passionate fans. Feder was a general manager in minor league baseball for 30 years (15 years in Tucson). "The Mexican Baseball Fiesta is a rare opportunity for baseball fans in the U.S. to experience authentic Mexican baseball games, which features a festive atmosphere including live music and authentic regional Mexican cuisine. The Mexican Baseball Fiesta is not just a baseball game; it's a party," said Feder.
Justin Piper, Chicago Cubs General Manager – Sloan Park, said "Sloan Park is excited to once again host the Mexican Baseball Fiesta. We look forward to welcoming the Mexican Winter League teams and their fans for an energetic baseball experience".
Mesa is one of a number of cities taking part in this year's Mexican Baseball Fiesta. The other cities finalized are Tucson and Las Vegas. We are still working on Nogales and Douglas, Arizona.
Tickets to the general public go on sale in early September online.  Ticket prices are box seats – $15 and general admission – $10, kids (6-16) $6.   Fans will be able to purchase tickets online at www.MexicanBaseballFiesta.com, at MV Snack & Sushi, Taqueria Cajeme, La Gran Bota, Restaurant Sinaloa, or at Sloan Park the week of the games.
The Naranjeros de Hermosillo, based inthe Capital ofSonora, has agreatfollowingandstrongattendance.The Naranjeros de Hermosillo are one of the most popular and successful teams in the Mexican Pacific League, having won 16 league titles and two Caribbean Series title. The Naranjeros won the Caribbean Series title in 2014. Theybecamethe firstMexicanteamto win theCaribbean Seriesafterwinningthetitlein 1976. FormerHermosillo players includeCurt Schilling, LarryWalker,FernandoValenzuela, ErubielDurazoandVinnyCastilla. Hermosillo will be managed by Miami Marlins coach Lorenzo Bundy.
TomaterosdeCuliacan areoneof themostpopularteams in theMexicanPacificLeague.TheyhavewontenMexicanPacific LeagueChampionships,mostrecentlyin 2014 and the Caribbean World Series in 2015. The Tomateros are managed by former MLB infielder Benji Gil.
Cañeros de Los Mochis play in the state of Sinaloa. The Cañeros won the league championship in 1984 and 2003.Luis Sojo will manage the team. Notable players from the Cañeros include Aurelio Rodriguez, Mike Cameron, former Tucson Toros P Bronswell Patrick, Tucsonan Ed Vosberg, and Juan Castro.
Agulias de Mexicali play in the Capital of Baja California. Mexicali was the LMP league champion last season. The team has a history of playing against Arizona teams, when in the 50s it played against the Tucson Cowboys in the Arizona-Mexico League. The Aguilas won the league championship in 1986, 1989, 1999 and 2016.The team also won the 1986 Caribbean Series. Former Mexicali players include Mike Piazza, John Kruk and Rudy Seanez. Roberto Vizcarra will manage the team.
The Mexican Baseball Fiesta began in 2011 in Tucson and was the brainchild of former professional LMP and minor league baseball pitcher Francisco Gamez.  Mike Feder, at the time the GM of the Tucson Padres, worked with Gamez to launch the tour which has been steadily growing in popularity. Jack Donovan, former minor league GM and MLB executive, is also a MBF partner.
About Visit Mesa: Visit Mesa is responsible for marketing Mesa, Arizona as a leading vacation, small meeting and sports travel destination to regional and national target audiences, including travel agents and group tour operators, meeting planners, leisure visitors and media.
Information on the Mexican Baseball Fiesta, LLC is available at www.MexicanBaseballFiesta.com
Mike Feder                                                         Francisco Gamez                                                             Jack Donovan
President                                                            Partner                                                                                 Partner
mike@mexicanbaseballfiesta.com         francisco@mexicanbaseballfiesta.com                 Cell (520) 904-1381
Cell: (520) 954-8803                                       Cell: (520) 460-5750