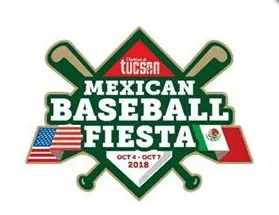 Arizona Wildcats to play in Vamos a Tucson Mexican Baseball Fiesta for the first time
Read the original article at tucson.com
The Vamos a Tucson Mexican Baseball Fiesta will have a little more "local flavor" this year.
That's how tournament founder and partner Francisco Gamez enthusiastically described the first-time participation of the Arizona Wildcats in the event.
Jay Johnson's team will face Naranjeros from Hermosillo in the second game of a doubleheader on Oct. 4 at Kino Stadium. The Naranjeros' winter-league roster includes former UA catcher Cesar Salazar, who's from Hermosillo, Sonora.
"It'll be a little weird seeing him with a different-colored uniform on," Johnson said of Salazar, a seventh-round pick in this year's MLB draft by the Houston Astros.
 Oct. 4 also happens to be the first day of full-squad fall workouts for the Wildcats after a month of small-group skill instruction. Johnson is looking forward to the early test.
"We certainly won't be a ready-made product, but I actually like that a little bit," Johnson said at a news conference Monday. "You put a freshman pitcher out on the mound in that type of environment, they're going to learn a lot about themselves."
The eighth annual Fiesta features six teams in all. The others are Yaquis from Obregon, Sonora, Aguilas from Mexicali, Baja California, and Cañeros from Los Mochis, Sinaloa, all in the Mexican Pacific League, plus a Future Stars squad from the Kansas City Royals organization. The tournament runs from Oct. 4-7 at Kino. It also will feature, for the first time, a home-run derby on Friday, Oct. 5.
Arizona also will play two exhibition games that won't count against its 56-game 2019 schedule. The Wildcats will face Cal State Fullerton on Oct. 28 at Sloan Park in Mesa, the spring-training home of the Chicago Cubs. On Nov. 10 — when the UA football team has a bye — Arizona will host BYU at Hi Corbett Field.
"It's huge for us," Johnson said. "It just accelerates the learning curve so much for the players.
"You can drill them. You can scrimmage. But when you put a jersey on, you put another opponent in the dugout, it helps them learn how to regulate their heartbeat, their emotions, focus on the task.
"I'm really excited for this fall. It's three things that give us a little different flavor."
Summer stars
Several current and incoming Wildcats have had successful stints in summer ball. They include:
Junior infielder Cameron Cannon, who made the Cape Cod League All-Star team. He batted .263 with 28 RBIs in 160 at-bats.
Sophomore outfielder Donte Williams, who made the Northwoods League Major League Dreams Showcase. Williams had a .400 on-base percentage and 16 stolen bases for the La Crosse Loggers.
Freshman catcher Austin Wells, who hit .357 with five home runs and seven stolen bases in 112 at-bats for the P.U.F. Caps elite travel team of Northern California.
Junior right-hander Preston Price, who posted a 3.07 ERA across 41 innings for the Anchorage Bucs of the Alaska Baseball League.
Inside pitch
Johnson said Arizona will be adding former San Diego State outfielder Justin Wylie as a graduate transfer. Wylie, who's from Chandler, batted .417 with seven homers in 108 at-bats for the Bethesda Big Train of the Cal Ripken Collegiate Baseball League.
The Wildcats will hold their first team meeting Aug. 19, the day before school starts.