Sept. 23rd at American Family Fields of Phoenix
(Brewers Spring Training home)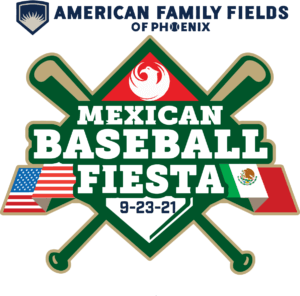 Find out About Our Amigos Program
Sponsorship Opportunities
Press Release
The MBF opens on Thursday, September 23 at our newest venue, American Family Fields of Phoenix (Brewers Spring Training home) at 3805 N. 53rd Avenue in Phoenix's Maryvale Community
Box office will be open at American Family Fields in Phoenix (Brewers Spring Training Home) Monday – Wednesday 10 – 3, Thursday noon – game
No phone orders
Thursday, September 23 – 7:00
Hermosillo vs. Obregon
Entertainment always plays a major part in the Mexican Baseball Fiesta. We booked a popular local act, Banda La Alterada to play in Maryvale on 9/23. They are well known in the Valley for their great work at Phoenix Suns games this year and the creation of the Suns themed song Este Ano Es El Nuestro.
Tickets go on sale online www.MexicanBaseballFiesta.com.
Ticket prices for box seats are $15 and general admission tickets are $10. Tickets for children age 6-16 and seniors are $6. These prices are the same as 2019.
We're asking fans to purchase early to avoid long lines at the stadiums. If not, ticket prices will increase to box seats $20, general admission $15 two days before the scheduled dates.