Sept. 24th – 26th at Sloan Park
Find out About Our Amigos Program
Sponsorship Opportunities
Press Release
The Mexican Winter Baseball League's version of "Spring Training" will come to the valley with our new home in Mesa at the state of the art Spring Training home of the Cubs, Sloan Park.
Box office will be open at Sloan Park in Mesa (Cubs Spring Training Home) Monday – Thursday 10 – 4, Game days starting on Thursday 10:00 – game
Phone orders starting on Monday, call (480) 668-0500
Friday, September 24
Obregon vs Mexicali, 5:30 first game
Hermosillo vs Navojoa, follows first game      Purchase Tickets
Saturday, September 25
Mexicali vs Navojoa, 5:05 first game
Hermosillo vs Obregon, follows first game     Purchase Tickets
Sunday, September 26
Obregon vs Navojoa 2:30 first game
Hermosillo vs Mexicali, follows first game
La Brissa performs following second game    Purchase Tickets
Tickets are on sale now at www.MexicanBaseballFiesta.com or www.sloanpark.com.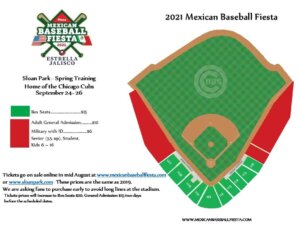 Ticket prices for box seats are $15 and general admission tickets are $10. Tickets for children age 6-16 andseniors are $6. These prices are the same as 2019.
We're asking fans to purchase early to avoid long lines at the stadiums. If not, ticket prices will increase to box seats $20, general admission $15 two days before the scheduled dates.