MEXICAN BASEBALL FIESTA TICKETS GO ON SALE ONLINE ON WEDNESDAY, AUGUST 25 at 9:00 AM
For Immediate Release
August 24, 2021
Contact: Francisco Gamez: francisco@mexicanbaseballfiesta.com – (520) 460-5750
Mike Feder: mike@mexicanbaseballfiesta.com – 520-954-8803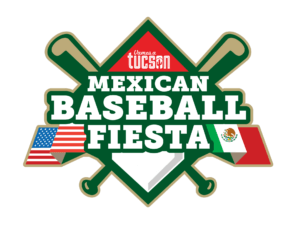 Tickets for the Vamos A Tucson Mexican Baseball Fiesta and the Mexican Baseball Fiesta in Mesa
presented by Estrella Jalisco go on sale at www.MexicanBaseballFiesta.com at 9:00 am on Wednesday.
On September 24 – 26 the Fiesta will play at Sloan Park, located at 2330 W. Rio Salado Pkwy in Mesa (Chicago Cubs Spring Training home). The 10th annual Vamos a Tucson Mexican Baseball Fiesta presented by Vantage West and Visit Tucson will return to Kino Veterans Memorial Stadium.
The 2021 dates are September 30 – October 3. This year's Mexican Baseball Fiesta will include in both Mesa and Tucson four Mexican Pacific League (Liga Mexicana Del Pacifico) teams. They are Naranjeros de Hermosillo, Yaquis de Obregon, Aguilas de Mexicali, and Mayos de Navojoa.
The MBF opens in the Valley on Thursday, September 23 at our newest venue, American Family Fields of Phoenix (Brewers Spring Training home) at 3805 N. 53 rd Avenue in Maryvale. The big rivalry game between Hermosillo and Obregon will take place in Maryvale. Tickets are not currently on sale but will be shortly at www.MexicanBaseballFiesta.com.
Ticket prices for all games in Tucson, Mesa and Maryvale are box seats – $15 and general admission
tickets – $10. Tickets for children aged 6-16 and seniors are $6 but are not on sale until the day of each game. These prices are the same as 2019. We're asking fans to purchase early to avoid long lines at the stadiums. If not, ticket prices will increase to box seats $20, general admission $15 two days before the scheduled dates.
The Mexican Baseball Fiesta is excited to announce the performances of La Brissa on Sunday, September 26 in Mesa, and in Tucson on Friday, October 1 st . This highly popular Sonoran band performed following the Thursday game in Tucson in 2019. With only four days of pre-promotion the MBF drew 5,670 fans in 2019.
La Brissa has gained a strong fan base in their homeland and in the southwest U.S. with their unique, modern Cumbias and rancheras music.
The full MBF schedule with game times for all four cities is available at https://www.mexicanbaseballfiesta.com/mbf-schedule.