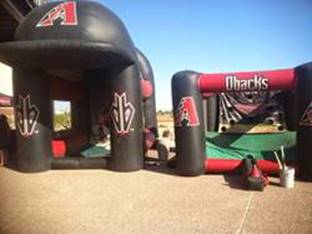 Phoenix Mexican Baseball Fiesta Promotional Summary
The Mexican Winter League Champion Naranjeros de Hermosillo will roll into Maryvale this Friday to take on three Major League affiliates composed of some the best young players in baseball over the three day weekend.  We will have an exciting and entertaining brand of baseball from both sides of the border as well as a great promotional lineup. It's now Mexico vs. the USA!
All games will be played at Maryvale Baseball Park, located at 3600 N. 51st Ave., which is home to the Milwaukee Brewers during Spring Training.
The Mexican Baseball Fiesta is a lot more than baseball. Its music all of the time, authentic Mexican food, mascots, and giveaways. Here is our promotional lineup:
Friday, Sept. 19    7:30 p.m.     Hermosillo vs. Chicago White Sox Future Stars
First Pitch: Mayor Alejandro Lopez Caballero of Hermosillo, Sonora, Mexico and Councilman Michael Nowakowski of Phoenix
Band: La Pilarena Tecno Band
Saturday, Sept. 20   7:00 p.m.  Hermosillo vs. Milwaukee Brewers Future Stars
First 600 fans get a free D-backs Pom Pom
Band: La Pilarena Tecno Band and 5to Mandamiento
Sunday, Sept. 21  6:00 p.m.     Hermosillo vs. Arizona Diamondbacks Future Stars
First 600 fans get a free D-backs Pom Pom
Entire family admitted in the general admission section for only $20. Tickets can be purchased at the box office prior to the game.
First Pitch – City of Phoenix Mayor, Greg Stanton
Band: La Gran Ciudad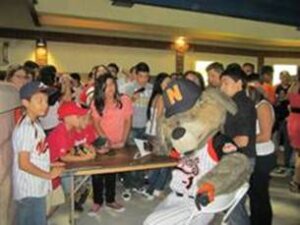 FREE KIDS CLINIC: Saturday, September 20 from 10:30 – 12:30 at Maryvale Baseball Park. The kids will get great instruction from Naranjeros players along with former MLB players. Kids should bring their glove. All kids that participate will get a FREE kids ticket for Saturday or Sunday's game.
MASCOT:      The most famous mascot in Mexico, Beto Coyote from the Naranjeros, will entertain the fans all three nights.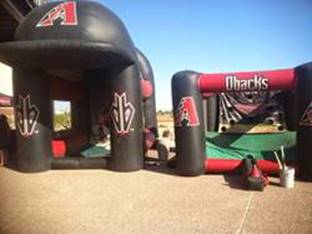 His popularity in Mexico is equal to the San Diego Chicken in the states.
INFLATABLES: The D-backs are providing two inflatables (pitching and hitting) along with their Street Team to entertain the kids for all three days. They will be throwing shirts in the stands, letting fans register to win Cristian Castro concert and game tickets for their Hispanic Heritage Day, and more.
Tickets: The prices are box seats $15 and general admission $8, kids under six are free. Fans will be able to purchase tickets at www.MexicanBaseballFiesta.com,www.phoenixsistercities.org, Restaurant Sinaloa, 2601 E. Bell Road in Phoenix, or at Maryvale Baseball Park from 10:00 am – 4:00 pm.
Phoenix Sister Cities is partnering on this event. They are a nonprofit organization that fosters cultural and business exchanges with its sister cities, including Hermosillo, Mexico, will host Mexican Baseball Fiesta.  A portion of the proceeds from the event will be donated to Phoenix Sister Cities to support its various activities, including sports, cultural, educational and business exchanges with Hermosillo.