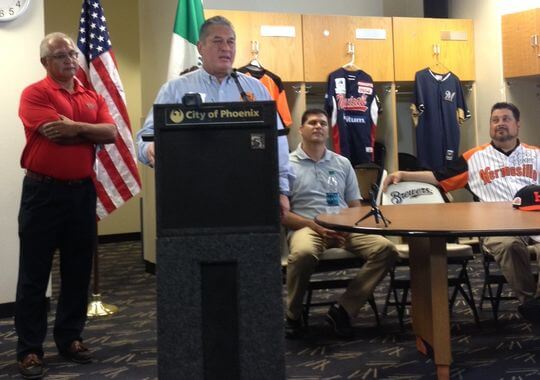 VALLEY TO EXPERIENCE MEXICO vs. USA CHALLENGE at the 3rd ANNUAL MEXICAN BASEBALL FIESTA
There have been some changes in our game and team lineup. Mexicali won't be able to make it to Phoenix but this presented an exciting opportunity. The Caribbean Series Champion Hermosillo Naranjeros will now journey to Maryvale Baseball Park to take on not one, not two, but three Major League affiliates composed of some the best young players in baseball. The Naranjeros will face stiff competition on all three nights (Friday, Saturday, and Sunday, Sept. 19, 20, 21) as they prepare to display their Mexican Winter League Championship talent against the Young Stars of the Arizona Diamondbacks, Milwaukee Brewers, and Chicago White Sox. We will have an exciting and entertaining brand of baseball from both sides of the border. It's now Mexico vs. the USA!
All games will be played at Maryvale Baseball Park, located at 3600 N. 51st Ave., which is home to the Milwaukee Brewers during Spring Training.
Schedule:
Friday, Sept. 19           7:30 p.m.     Hermosillo vs. Chicago White Sox Future Stars
Saturday, Sept. 20     7:00 p.m.     Hermosillo vs. Milwaukee Brewers Future Stars
Sunday, Sept. 21         6:00 p.m.     Hermosillo vs. Arizona Diamondbacks Future Stars
Tickets to the general public go on sale September 11th.  The prices are box seats $15 and general admission $8. Groups for 20 or more will receive a $3 discount per ticket (box seats $12, GA $5). Kids under six are free. Fans will be able to purchase tickets at www.MexicanBaseballFiesta.com, www.phoenixsistercities.org, Restaurant Sinaloa, 2601 E. Bell Road in Phoenix (602) 953-0430, or at Maryvale Baseball Park from 10:00 am – 4:00 pm all next week.  Fan giveaways and other activities are planned including a free kids baseball clinic at Maryvale Baseball Park at 10:30 on Saturday. The kids just need to bring their gloves. The instructors will be Naranjeros players along with former MLB players that are now in the MLB Alumni organization. Beto Coyote, the Naranjeros popular mascot and best in the Mexican Winter League, will be on the field and in the stands for all three games.
The Naranjeros de Hermosillo are one of the most popular and successful teams in the Mexican Pacific League, having won 16 league titles and two Caribbean Series title. The Naranjeros won the Caribbean Series title in 2014.
Phoenix is the first stop on a seven-city tour of Mexican Baseball Fiesta, which takes place during the exhibition season for the Mexican Winter League, prior to their Oct. 11th Opening Day. The other cities are Nogales (MX), El Paso, Agua Prieta, Cananea, Magdalena, and Tucson.
The Mexican Baseball Fiesta began in 2011 in Tucson and was the brainchild of former professional LMP (Liga Mexicana del Pacífico) and minor league baseball pitcher Francisco Gamez.  Mike Feder, president of the Mexican Baseball Fiesta and the former general manager for the Tucson Padres, worked with Gamez to launch the tour which has been steadily growing in popularity.
"The Mexican Baseball Fiesta are not just baseball games; it's a party," said Feder.  "It's quite an experience. We will do things the way it's done in Mexico. We have local bands scheduled on all three days. They will play before, during and after all games."
Phoenix Sister Cities, a nonprofit organization that fosters cultural and business exchanges with its sister cities, including Hermosillo, Mexico, will host Mexican Baseball Fiesta.  A portion of the proceeds from the event will be donated to Phoenix Sister Cities to support its various activities, including sports, cultural, educational and business exchanges with Hermosillo.
Information on the Mexican Baseball Fiesta, LLC is available at www.MexicanBaseballFiesta.com and at www.phoenixsistercities.org.