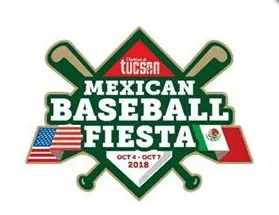 Wildcat Baseball Fiesta – tucsonnewsnow.com
Read the Original article at tucsonnewsnow.com
TUCSON, Ariz. – The Arizona Wildcats will begin their fall season in a unique way this October. Coach Jay Johnson's club will face the Naranjeros de Hermosillo of the Mexican Pacific League on Oct. 4 at Kino Stadium as part of the eighth annual Vamos a Tucson Mexican Baseball Fiesta.
The Wildcats will play the Naranjeros on the first day of the four-day event, which drew more than 15,000 total fans last year to Tucson. The game is set to be the second game of the tournament doubleheader on the 4th.
"We are very excited for the invitation to participate in the Mexican Baseball Fiesta and use it as our international competition for this year," Johnson said. "We are thankful to be included in an event that has such quality and tradition, and that is also a great thing for our community. It is also a great opportunity for our players to play against a professional team.
"It will give us a good baseline of where we are as we begin our preparation for the 2019 season."
Hermosillo is one of the most successful teams in the Mexican Pacific League. The Naranjeros have won 16 league titles and two Caribbean Series titles. The club last won the Caribbean Series title in 2014. Former Hermosillo players include Curt Schilling, Larry Walker, Fernando Valenzuela and Erubiel Durazo. Hermosillo will be managed by former Tucson Padres pitching coach Bronswell Patrick.
Under new NCAA legislation, Arizona is allowed to play two fall exhibition games that won't count toward their 56-game regular season schedule in 2019. The game against Hermosillo will be in addition to Arizona's two-game fall schedule. The Wildcats will also play Cal State Fullerton on Oct. 28 at Sloan Park, the site of Chicago Cubs Spring Training in Mesa, before hosting BYU at Hi Corbett Field on Nov. 10.
The Wildcats are allowed to play Hermosillo per an NCAA bylaw that allows collegiate teams to play one contest a year with a foreign opponent in the United States. The game does not count against the 56 games in the regular season or the two fall games.
The single game against Hermosillo on Oct. 4 will come on Arizona's first day of fall training. Tickets for the game will go on sale in early September online at MexicanBaseballFiesta.com. Tickets cost $15 for box seats, $10 for general admission for adults and $6 for kids (6-16). Tickets will also be on sale at the Kino Stadium box office two weeks before the first game as well as other locations.
It's possible the Wildcats could be facing a familiar face when they match up with Hermosillo. Former Arizona catcher Cesar Salazar, a Hermosillo native who is currently playing in the Houston Astros system, is set to be on the Naranjeros roster. If granted permission by Houston, Salazar could play in the game against Arizona.
Hermosillo's roster could also include big league veterans Fernando Salas and Eric Young Jr., and various prospects including Jose Cardona (Texas Rangers), Roberto Ramos (Colorado Rockies) and Catalina Foothills High School product Luis Gonzalez (Chicago White Sox).